Overview
We are inviting people to give their views on what events and other features Northampton Market Square should host following its redevelopment.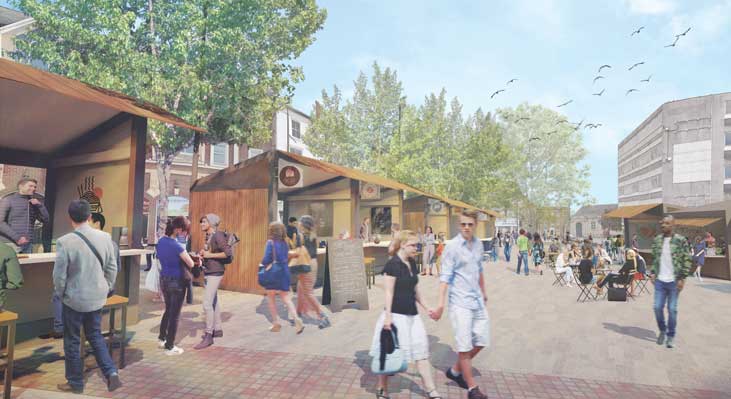 A key part of the project is to help create a large public space which can be used for a variety of purposes, and we would like to hear awhat people want to see there.
It could be anything from musical or theatrical events to big screens for major sports fixtures, plus individual ideas.
We would also like to hear what features, in addition to the existing market stalls, would bring visitors into the town centre, such as specialist markets and wide-ranging leisure activities.
Cllr Lizzy Bowen, Cabinet Member for Economic Development, Town Centre Regeneration and Growth, said: "As part of our wider strategy for Northampton town centre, we're going to deliver an amazing events space in Market Square. It's a key civic space and one of the historic locations we've highlighted in our City Status bid, as it is the second largest market square in the country and has stood since 1235.  We already have some great ideas about what we can do with it, including some of the hugely popular events we already host like Diwali and the Christmas lights switch-on. The way people use town centres has changed drastically, they're no longer primarily about retail, people now want to experience fantastic leisure and cultural events too. Many of you responded to our previous consultation on the future of Market Square, which resulted in our outline plans. Now, we want to hear some of the fantastic ideas you have, as this is your Market Square and should host the kinds of things you want to see here."
A display at the Grosvenor Shopping centre from 7 April to 4 May is available to view outlining the latest plans for how Market Square look once redevelopment completes in 2024.
Have your say
You can have your say by taking the online survey by following the link below. You can also meet team representatives in Northampton town centre from Thursday 7 to Saturday 9 April and complete a street survey with them.
You need to make your views known by the end of April 2022.
If you have any queries, comments or would like a copy of this questionnaire in another format (including paper, easy read or large print) please contact us.